"In Your Space Series: All Hail the Overlord! - How First Saturday Arts Market Shaped My Artistic Journey"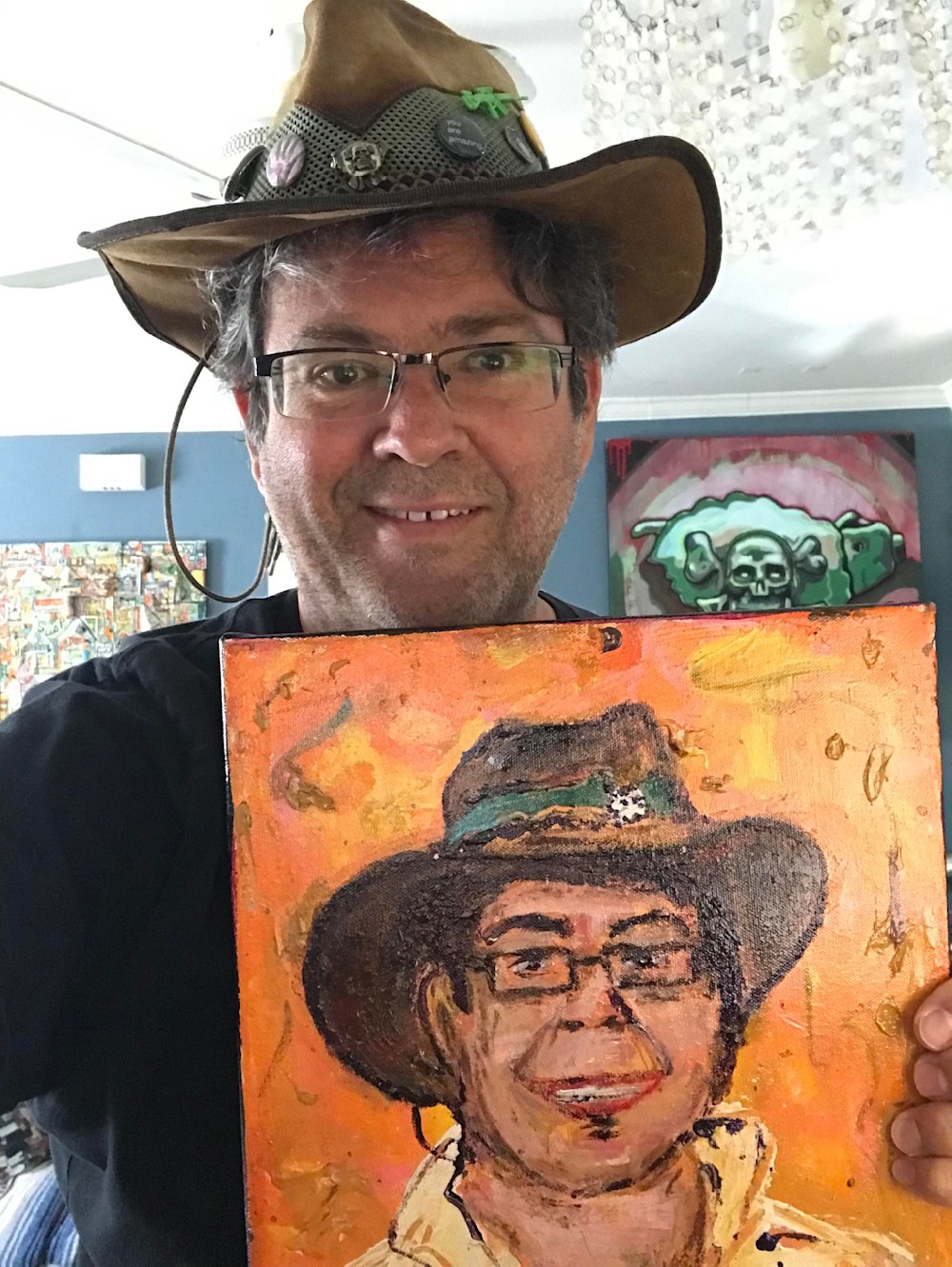 "In Your Space Series: All Hail the Overlord! - How First Saturday Arts Market Shaped My Artistic Journey"
I was sitting at a 59 Diner with my friend Martin, having lunch. Hanging out with Martin is a routine that I sorely miss, since leaving Houston. This day revolved around our usual art talk. Somewhere in the course of the conversation, I asked him if he had ever been to the Jerry's Artarama that was just across the street. He said, "Yes." I said, "Let's go." And a profound change in my career started to happen.
At that time, I was primarily known as a photographer, but I had always kept sketchbooks and dabbled in mixed media. Lately, I had been feeling unsatisfied with my work as a nightlife photographer, and I found solace in sketching during my downtime between gigs. Something inside me was urging me to do something with this unrest I was experiencing, and I felt a strong pull towards painting.
When we arrived at Jerry's, Martin raised an eyebrow at me as I piled my cart with art supplies. "What are you doing? You have $200 worth of art supplies in your cart" he said. "I'm going to paint," I replied. And that's exactly what I did. I painted frantically, as if something was chasing me, and I quickly amassed a large collection of paintings. It felt awesome!
During this painting fervor, someone asked me what I was going to do with all the paintings, and my answer was simple, "I'm going to sell them." This newfound passion for painting led me to explore new avenues for showcasing and selling my work. As a photographer, I had avoided outdoor festivals, but with paintings, it seemed I didn't have that anxiety. I realized I didn't have to worry about dirty frames and broken glass like I did with photography. This was a welcome relief.
I vividly remember setting up my paintings at a wine fair with the help of my family. It was the first time I was going to display my work in this new medium publicly. There was a moment of panic when I was setting up. I wanted to pack up and go home, doubting my decision to pursue painting. After all, I had been a photographer for most of my adult life. "What am I doing?," echoed loudly in my head. But I decided to stay and see what would happen.
To my amazement, I ended up selling about $3600 worth of art that day. That's when El Santos, the professional painter, was born. It felt surreal to me, and it still does. The journey to becoming a painter seemed like a mystery. I had always admired the medium. I had always exhibited and been friends with primarily painters, but I had crossed the line between mediums now, and I was hooked.
Over the years in Houston, I had always been aware of the First Saturday Arts Market in the Heights. I knew many of the artists from various art shows throughout the year, including its founder and leader, Mitch Cohen, also affectionately known as The Overlord. I was hungry for more opportunities to showcase my paintings, so I asked if I could join the market, and I was warmly welcomed by The Overlord and the artist community.
Prior to this, I had mainly exhibited in galleries and indoor venues, but showing at the First Saturday Arts Market was a different animal. It was much harder work, especially in the Houston heat, but it was also one of the most enjoyable and educational experiences of my art career. I learned a lot from The Overlord, who was incredibly mindful of both the consumers and the artists. He made sure the live music was never too loud, the layout was well thought out, and he was always there to support and assist the artists from setup to teardown, like a good captain.
As I reflect on my time at the First Saturday Arts Market, I realize how much it meant to me. It was more than just a venue for selling my paintings; it was a place where I found the kindest community of fellow artists and art lovers. The support and camaraderie among the artists were invaluable, and it fueled my passion for my art even more.
I remember the excitement of setting up my booth every month, early Saturday morning, showcasing my latest creations, and interacting with the visitors who were genuinely interested in my work. The market gave me the opportunity to consistently build an audience, and it helped me gain the confidence to pursue my art career even more fervently. It even afforded me the ability to lease my own studio space in a short amount of time.
Today's featured image is of The Overlord himself with a painting I did of him a few moons ago for White Linen Night, one of his brainchild events. It's great to see the piece in its rightful home. The Overlord's dedication to the arts community and his unwavering support for artists like me remains truly inspiring.
Today, as I persist in this beautifully absurd art career life that I have built, the memories of the First Saturday Arts Market and the community it fostered remain with me every day. If someone were to ask me what I miss most about Houston, it would undoubtedly be this experience - the connections, the camaraderie, and of course, The Overlord himself. All hail The Overlord!
I am grateful for the opportunities and memories that the First Saturday Arts Market provided me, and I continue to carry them with me as I pursue my artistic endeavors in North Texas. Definitely check out First Saturday Arts Market if you're in Houston!
If you have any images of my artwork in your environment, I would love to see them and write about them. As a thank you, I offer 35% off any of my artwork. The support of the community and fellow art lovers is what keeps me going on this artistic journey, and I am thankful for every opportunity to share my work with others.
-Sergio Santos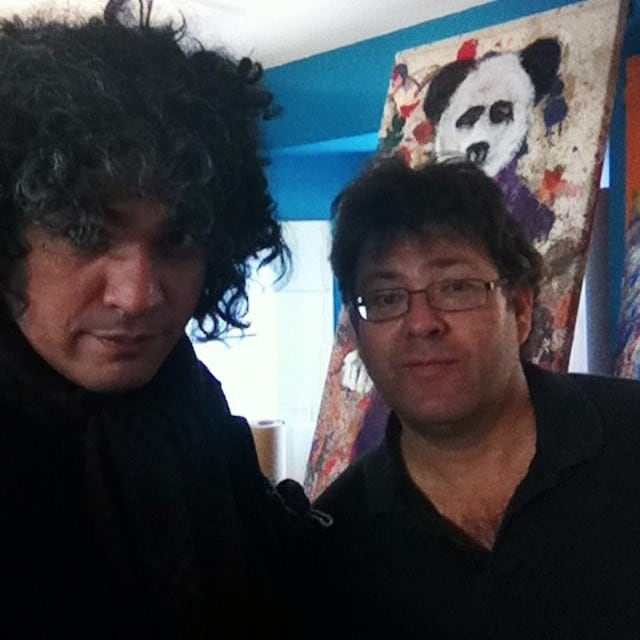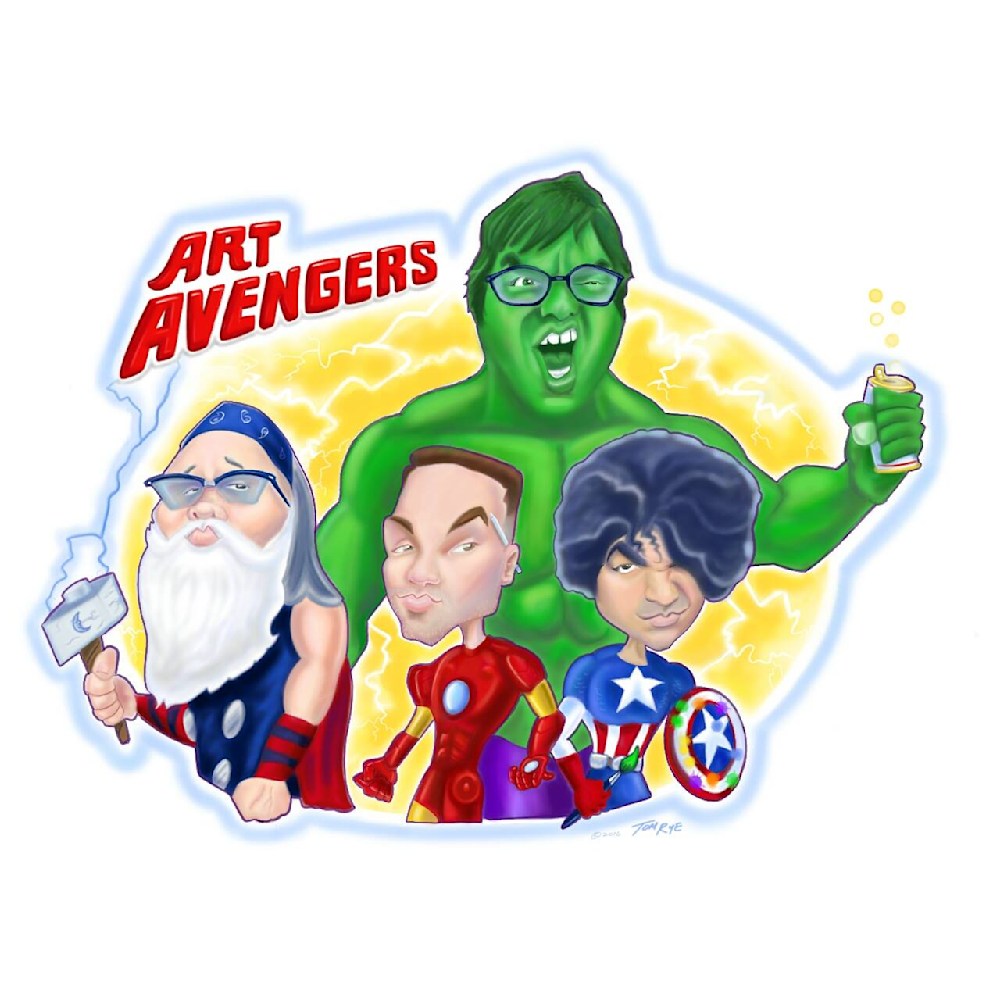 Artwork by Tom Rye a.k.a. Iron Man