In Your Space Series: Heavy Hitters: Rickey Henderson, Billy Ripken and an Aging Back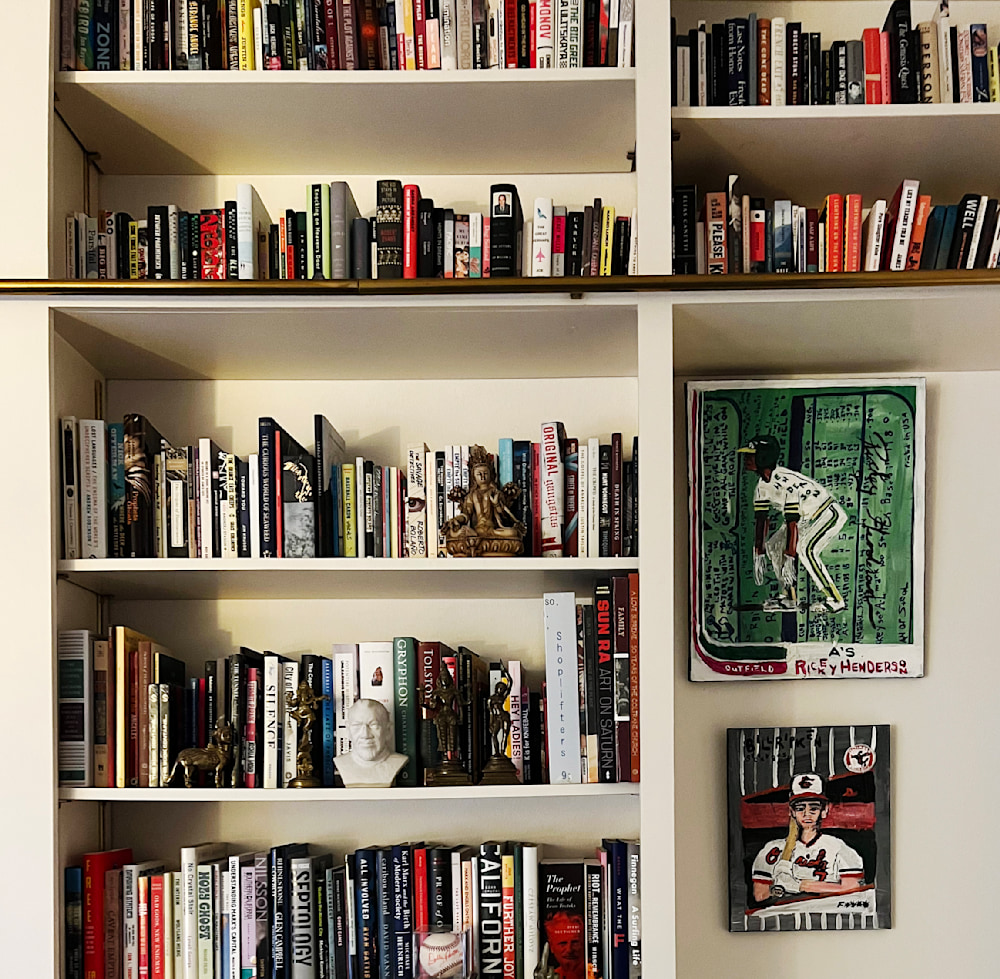 In Your Space Series: Heavy Hitters: Rickey Henderson, Billy Ripkin and an Aging Back
Moving is never a fun time for me. One of my most difficult moves involved tons and tons of books. After I loaded box after box after box, I called my parents and asked them why they didn't make me go outside more as a child. I was being facetious, of course. I did play outdoor as a kid, but back then my true passions were baseball cards and books, which are heavily present in today's featured image as well as in my artwork in general.
As a kid, I was a walking Beckett price guide, studying every card I could get information on. I started collecting in the late 80s, when earlier cards like Rickey Henderson's were mythical creatures to me. I treasured my 81 Donruss Rickey card, admiring the fuzzy image of Henderson in that vibrant green and yellow uniform and that graphically odd layout.
But perhaps the most mysterious card in my card hunting was the 89 Fleer Billy Ripken error card. All the price guide said was "Error," and in that pre-internet time, my young mind could only imagine what was blacked out on Ripken's bat. It wasn't until I was an adult in the internet age that I discovered the truth: the blacked-out word was "F**kface." I couldn't stop laughing when I realized this - "F**kface.".
So when Matt asked if he could recreate the Ripken card in paint, I was all in. I laughed the whole time I was creating the card. When he sent me this image featuring Ripkin and another Henderson I had made, it brought me so much joy to see the paintings surrounded by my one of favorite things in life: books. I'm more of a kindle guy now, though. It's easier on my back!
If you have any pictures of my artwork in your environment, please share them with me - I'd love to write about them! And as a token of my gratitude, I'm offering a 35% discount on all of my artwork.
-Sergio Santos