In Your Space Series: "I Dig It! - The Archaeology of Creativity"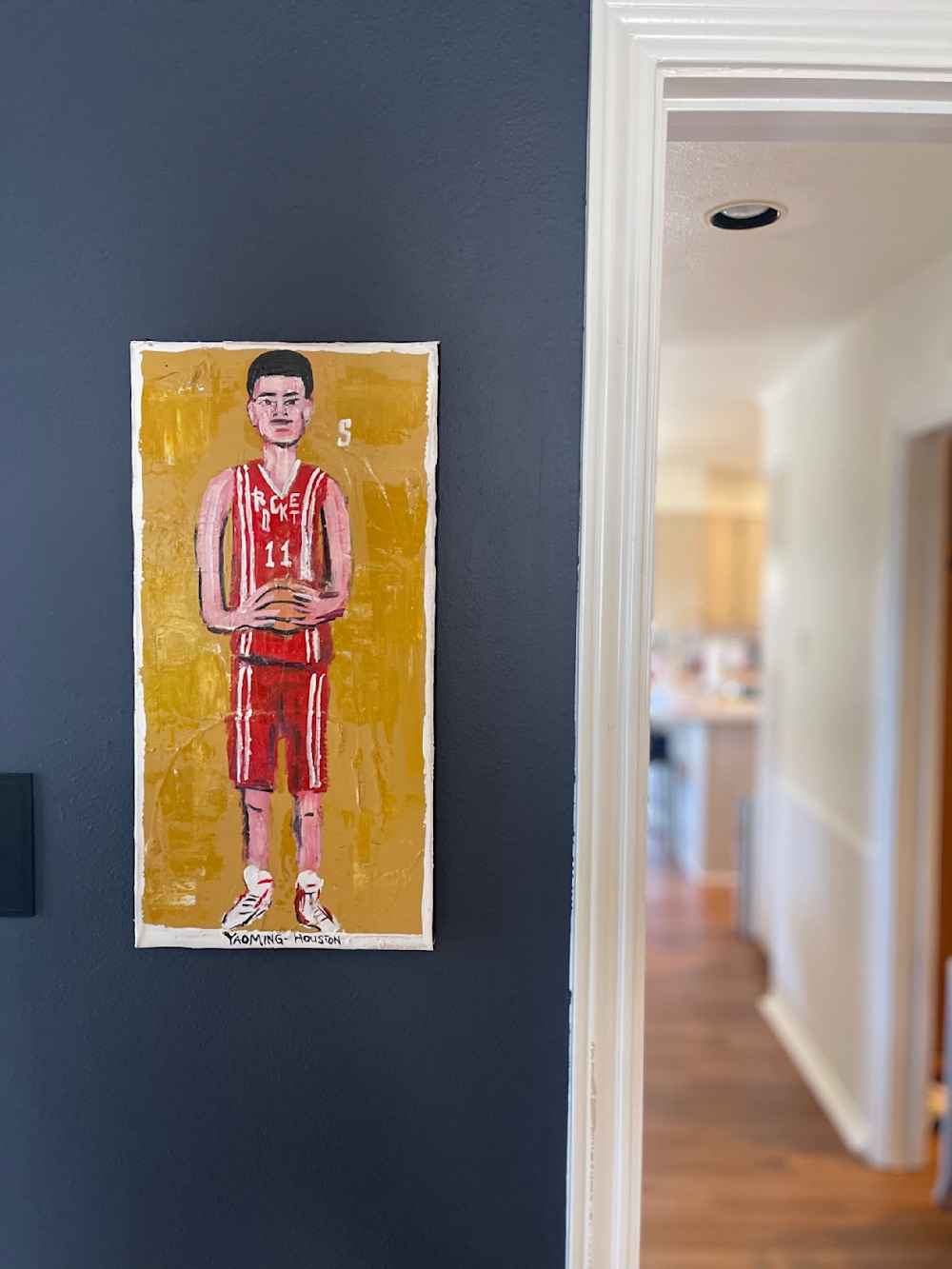 In Your Space Series: "I Dig It! - The Archaeology of Creativity"
It was probably 1988 when I officially started collecting baseball cards. I had a few cards from cereal boxes or fast food promotions, but it wasn't until fifth grade that I truly became fascinated with them. I remember seeing someone with 1988 Topps cards at school, and I was drawn to the photography - those primitive letters floating in the back with the team names.
I convinced my parents to buy me a pack of 1988 Score cards during a trip to the mall. When I brought them to school, the other kids were baffled by the brand. "Score?" It was the first year of Score's card run, and I loved the community excitement of that moment. I was hooked.
As I delved deeper into the world of baseball cards, I acquired a book that detailed the history of baseball card collectibles. The T206 Honus Wagner card was, of course, heralded as a baseball ark - a legendary treasure. I read about a kid who had found one in a barn and how ridiculously valuable it was. The folklore surrounding it fascinated me.
But my obsession with baseball cards was never about their monetary value. It was about how epic they looked. For me, the T206 cards were the epitome of that epicness. A few years ago, I began reimagining these classic cards in my own way with paint. It was natural first step into this genre.
One day, it struck me that the long format of baseball cards would be perfect for painting basketball players. I still maintain that assertion today, and that's where my featured images for today come from - a set of three basketball players sent to me from my friend Jordan's collection.
In my journey as an artist, I've learned that I'm not interested in documenting things as they exist in our world through my art. I want to create other worlds, to take the familiar and place it in strange, minimal lands often times. My backgrounds reimagine the barn where that kid found the Honus Wagner card, and it's in those lands that I want my figures to exist. It's archaeology.
As I painted a full-bodied Yao Ming, I realized he didn't quite fit the way I wanted him to in the full-frame piece. So, I compressed him, and it made me smile. I left him as is. I am joyful as I reminisce about the moment.
Another image that brings a smile to my face is Mutombo throwing up his signature "no, no, no" finger, with the floating "S" emphasizing his negation. These moments are rarely planned in the studio; they come alive as I settle in for the creative journey. The moments are being unearthed from some unknown nether-region. I love that element of surprise.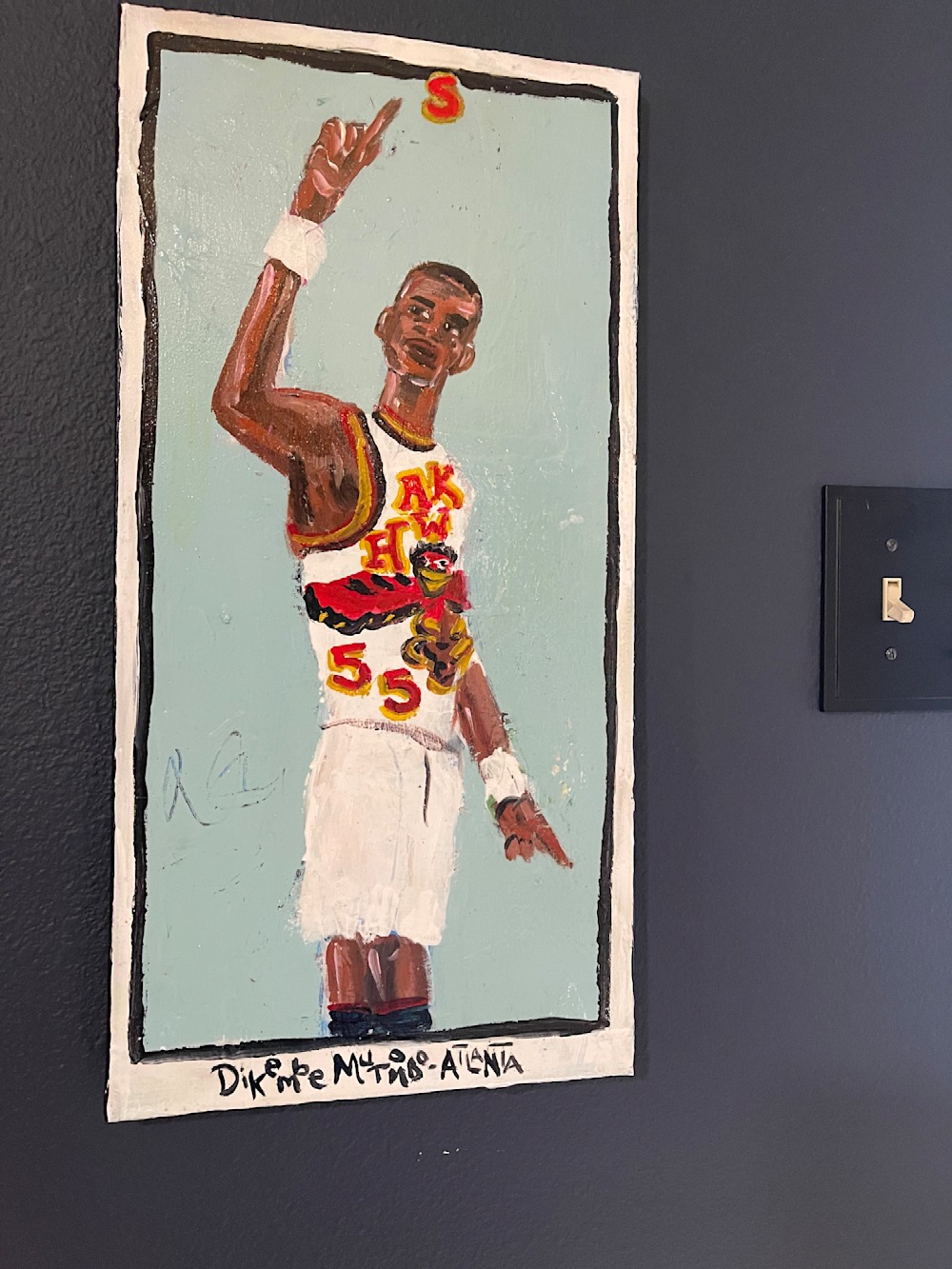 I also have a fondness for estate and garage sales, where I often find hidden treasures. During one of my runs, I stumbled upon an unfinished canvas with leaves painted on it. The green reminded me of Milwaukee, so I finished it out, and a Giannis basketball card came to life.
I want to express my gratitude to my friend Jordan for allowing me to reconnect with these old friends - the basketball players from his collection. It's a joy to see that they are living a good life in their home!
If you have any images of my artwork in your environment that you'd like to share with me, I'd love to see them. As a thank you, I offer a 35% off code for any of my art pieces. Let's continue this journey of art and appreciation for the beauty in the unexpected!