In Your Space Series: Quest For Creativity - Selling Art in the Digital Age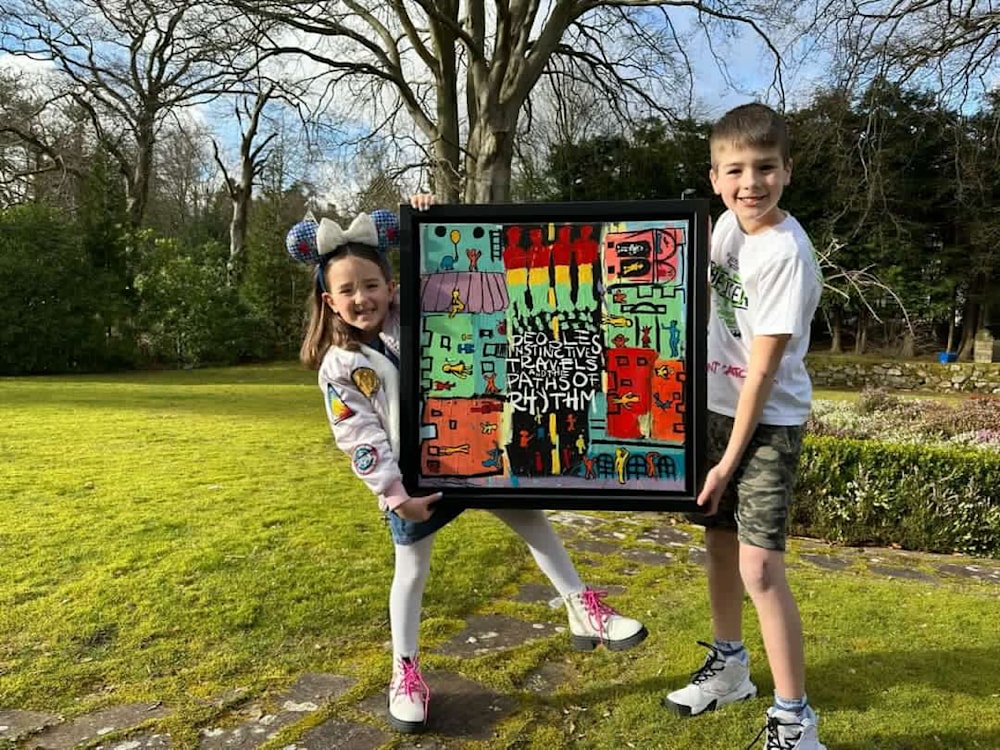 In Your Space Series: Quest For Creativity - Selling Art in the Digital Age
Once upon a time, selling art online wasn't something I had ever considered. It was around 2008 when I first embraced social media as a way to promote myself and my art. Back then, online sales were still quite rare for me, and I wasn't very adept at handling the process, so they were anomalies.
But fast forward to today, and I'm often asked if I ever show up physically anywhere anymore. It's a question that the younger me would never have expected to answer with a "no, not really." My art career has taken a digital embrace, with online marketing and selling becoming a prominent, if not sole part of it.
One of the pieces that exemplifies this digital shift in my career is a commission I did several years ago for my friend Simon, who lives in Glasgow, Scotland. It's the featured image today, and I love seeing how it's alive and well, proudly held by his children in the picture.
I tried to dig through my social media to remember exactly how Simon found me, and I may have mixed up some details as I came up empty with the direct messages that led to this commission for an album cover of A Tribe Called Quest's "People's Instinctive Travels and the Paths of Rhythm." But I think it happened on Twitter.
"Twitter?" I thought when I saw the message. At the time, I had posts from Facebook going everywhere, and Twitter wasn't a platform I frequented much, so it was a surprising but very welcome inquiry. I'm more tuned into Twitter today, and it was this experience that changed my tune.
I poured my heart into the piece, spending time discussing Tribe with Simon and appreciating how universal all art forms can be in the process of that discussion. This is a record that I love, and of course, I wanted to delve into it artistically.
People often ask how long a piece takes to create, and the answer always is, it varies. This piece, I put many hours into, and both Simon and I loved it when it was finished.
The painting traveled quite a distance when I was finally done. I was nervous about how far it was traveling, but eventually got word that it had arrived. I wish I could find the picture and kind words Simon sent me with the piece, but seeing the image of his kids with the artwork adds another layer of magic to the experience.
Thank you, Simon, for connecting with me in this peculiarly beautiful ever evolving digital age and thank you for the updated image!
And to all those who have my art in their environment, I would love to see it and write about it. As a thank you, I offer 35% off any of my artwork. It's heartwarming to see my art finding homes and being appreciated all over the globe!
-Sergio Santos