In Your Space Series: Uncle Hacksaw and the Seventh Cousin: A Dreamy Connection to Ty Cobb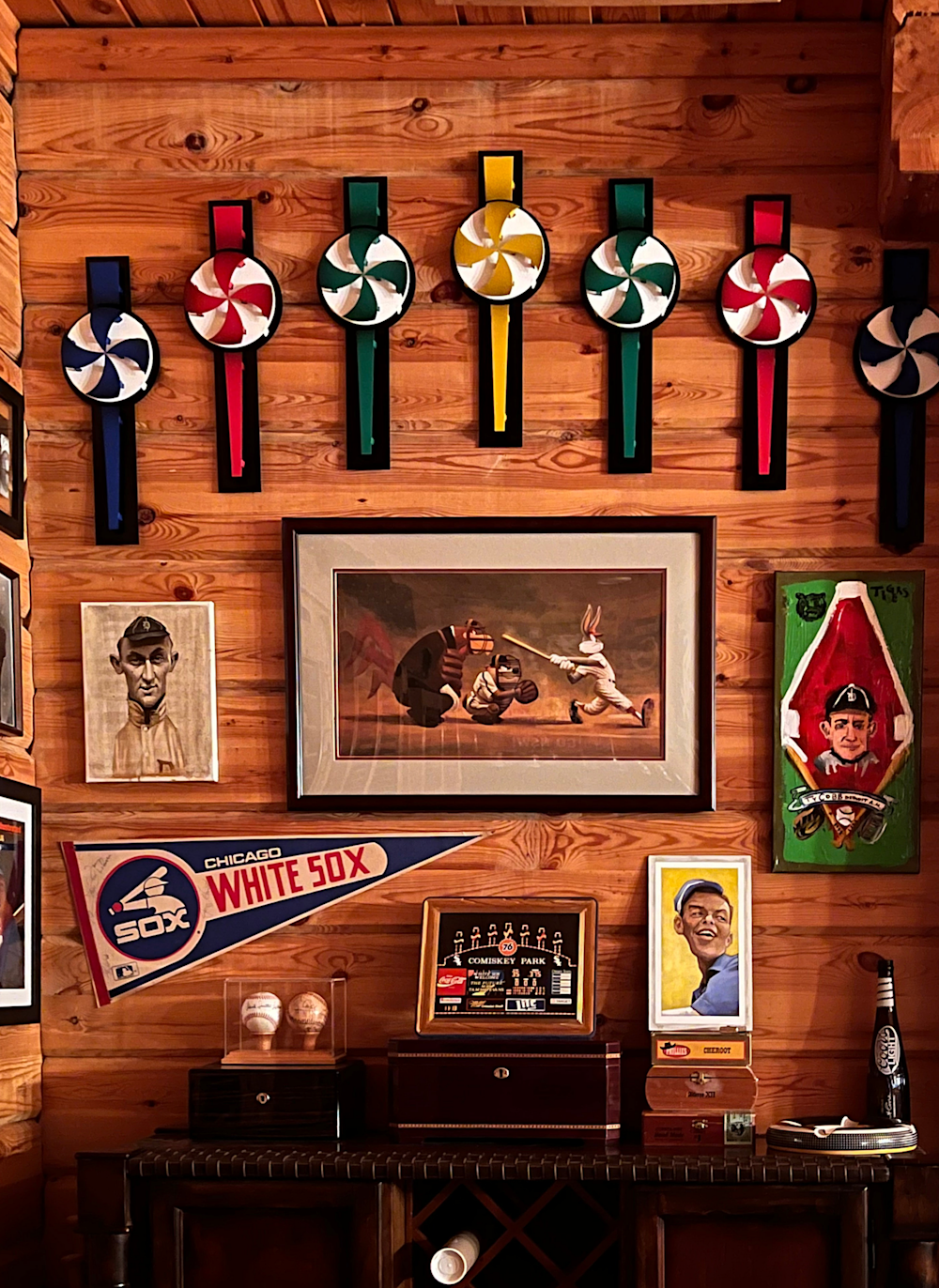 In Your Space Series: Uncle Hacksaw and the Seventh Cousin: A Dreamy Connection to Ty Cobb
When I was around six years old, I had a vivid dream that has stuck with me ever since. In that dream, I saw a man lifting a 2x4 and shouting, "Hoooooooooo!" It was none other than Hacksaw Jim Duggan, and in that dream, my mom turned to me and revealed that he was my uncle. At that time, our family circle was relatively small in Houston, so having uncles around regularly wasn't something I was accustomed to. Naturally, in the dream, I was beaming with pride at this newfound revelation.
When I woke up, I couldn't help but burst into laughter. Of course, Hacksaw Jim Duggan is not my uncle, but the memory of that dream resurfaces whenever someone contacts me, claiming legitimate familial connection to someone I'm painting. Today, I want to share an exquisite wall from my friend Rob's home. As it turns out, he happens to be a seventh cousin of the legendary Ty Cobb. The way he describes the visual setup to me is so delightful that I can't resist sharing his words here (with his permission, of course).
Rob shared, "I grew up as a White Sox and Carlton Fisk fan, so I incorporated a bit of that into this wall... I proposed to my wife in Chicago, and the next day at the game, the Sox put a message on the scoreboard for her. I have a photo of that moment displayed here, right under the Bugs Bunny print that used to hang over my first-born's crib. He's 25 years old now. But where do you come into play? Well, being a seventh cousin of Ty Cobb, I asked you to create a 1911 T205 card of him for me. It proudly hangs on this wall alongside Noah Stokes' caricatures of Ty Cobb and Frank Sinatra's card from the film 'Take Me Out to the Ballgame.'"
What I truly adore about art is its power to visually bring joy and create unique environments. I experience this through my own artwork, as each piece takes on a life of its own and comes and goes from my own space. However, these glimpses of my art becoming part of someone else's story and often working collectively with other pieces of art and memorabilia are incredibly precious to me. Thank you, Rob, for sharing the rich and intimate history of your space. It's a glimpse I truly cherish.
Do you have any pieces of my artwork in your environment? I would love to see them and write about them. As a token of my gratitude, I offer a 35% discount code for any of my artwork. Until next time. Hooooooooooooo!
-Sergio Santos