In Your Space Series - "With a Little Help From Old Friends"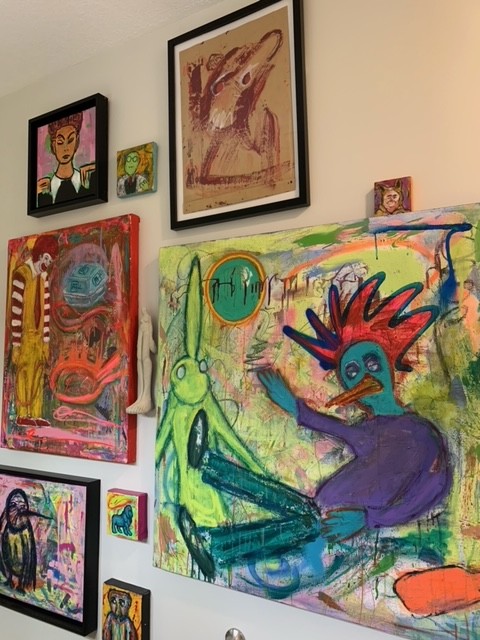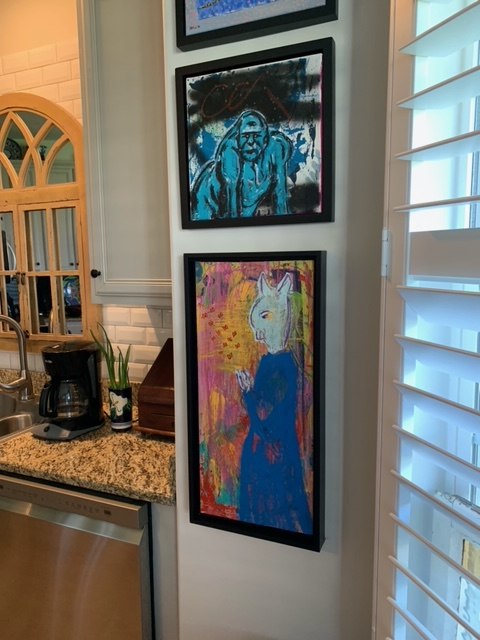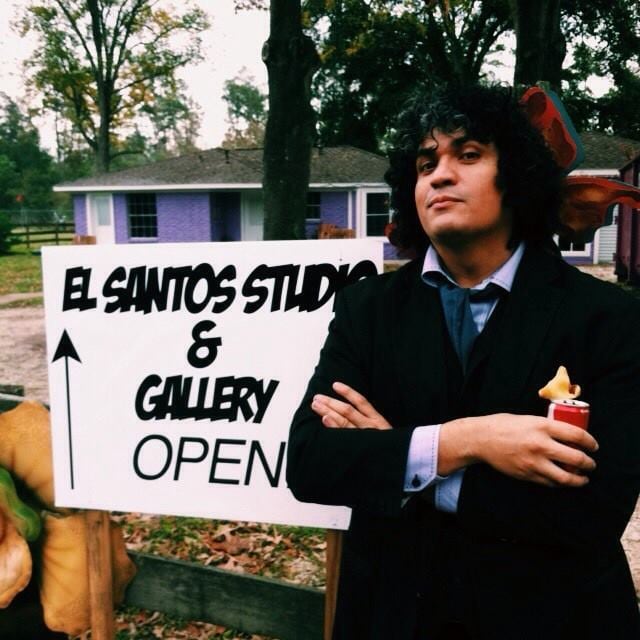 In Your Space Series: "With a Little Help From Old Friends!"
The images from today's "In Your Space" feature go back to a special time in my life. At this point in time, I had sequestered myself down a dirt path on a back road of Cypress, TX, a suburb of Houston, in a little purple house on one and a half acres of land to paint.
For more than a decade prior, my game had been photography, but here I was leaving the past behind, entering new waters career-wise. To amble about in Houston is a chore. The traffic and the distances between things are a trial of their own. So I was always delighted/surprised that anyone came out to see me.
I mainly went into Houston proper to exhibit, which is where Terri (who sent me today's images) found me. I was so happy when Terri came out to visit me in my shell. I enjoyed our conversation and seeing which pieces she gravitated towards.
The piece that stands out the most in the pictures that Terri sent me is called "A Friend In Need". It was created during a time when I found myself feeling lost and disconnected from my art.. I had been a working photographer since I was 18 years old. I had learned in the darkroom and made things with my hands. It was spiritual, it was my obsession, but then digital came along, and I suddenly found myself feeling like a desk guy.
I had become disconnected from the tactility of creating, and that caused a sense of malaise in me. That's what "A Friend In Need" is about. It was my way of trying to get out of that panicked state, albeit in a whimsical and strange manner.
The thing I appreciated the most as I transitioned from photography to paint full-time was that my expressionism in photography always came out dark humor-wise. I could never pinpoint why, but it bugged me. In painting, I didn't feel this way. It was a lot more fun. It felt like when I discovered the physical darkroom. I felt at home, and here we are today.
Thank you, Terri, for sending pictures of my old friends. A lot of them made me laugh as I see them grouped together. Part of a long-beaked, portly bird is visible in one of the pictures. It's called "I Think It's Time to Retire." I crack myself up!
Have you got pictures of some of my artwork in your space? I'd love to see them! As an incentive, I'm offering 35% off of any of my artwork if I can use your images to write a piece for this series.
-Sergio Santos